Anene Exudes Nigerian Pride in Ohio State Spotlight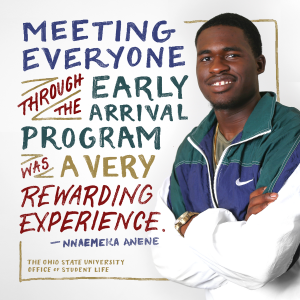 Nnaemeka Anene, Yes, you know him,  one of the twin sons of John O Anene, Jr. the director of Central States Upward Bound Program is in the news at Ohio State University.  Below is the story of Nnaemeka as posted by Carol Harper in  OSU Spotlight.
—
Exuding Nigerian pride, this sophomore sat down with us to discuss his extraordinary experience thus far at Ohio State. Just a car ride away from Columbus, Nnaemeka Anene was raised in Dayton, Ohio with his twin brother and their sister. A chemical engineering major, Nnaemeka spends the majority of his time involved in various activities across campus and spends very little time sleeping – a familiar pattern for many busy college students.
Across campus, Nnaemeka is involved in organizations and programs like the Bell National Resource Center, the Office of Diversity and Inclusion, the African Youth League, Preface: The Minority Engineering Program and Leadership Collaborative. Also a Morrill Scholar, he is all about his studies. However, he balances all that studying by being active: flag football, basketball and co-ed volleyball are just a few intramural sports Nnaemeka enjoys playing. Sticking with his love for sports, Nnaemeka chose J.O. South as his favorite spot on campus.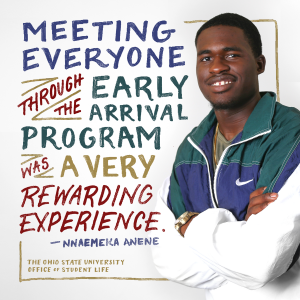 When choosing the right university for him, Nnaemeka had a lot of things to consider. Declining a track scholarship to another school, he followed his parents' wishes for his future and decided to come to Ohio State after he received the Morrill Scholarship and participated in the Early Arrival Program. "Meeting everyone through the Early Arrival Program who was coming to Ohio State and meeting those who came before me was a very rewarding experience," he recalled. This experience allowed Nnaemeka to learn the value and importance of mentorship. Through the Early Arrival Program, Nnaemeka shared that he learned a lot about the statistics of black men in college and that influenced him to become involved with a program for minorities within the STEM field this past summer. Mentoring other hopeful young students in STEM, Nnaemeka hopes to start a program for low-income students interested in the STEM field here at Ohio State.
As with his involvements, Nnaemeka's passions are numerous. Priding himself on observational skills, Nnaemeka is passionate about helping others grow through the observation and mentoring others. When it comes to career plans, his pre-medicine journey will one day lead to helping people in the operating room as a cardiac surgeon. Nnaemeka also dreams of opening a hospital one day with his twin brother.
Excited to continue his journey at Ohio State, Nnaemeka shared that the hardest lesson he has had to learn relates to failure and how it can be used to help re-prioritize responsibilities in order to work smarter and harder. For incoming Buckeyes, Nnaemeka offers this piece of advice for consideration: "Giving up sleep is not the worst thing, but make sure you spend that extra hour to finish your homework because you won't regret that decision later." Though the right amount of sleep is important and different for everyone, we can't fault Nnaemeka for a strong work ethic and the ways he is spending his time on campus. We're sure his next few years at Ohio State will be just as bright as his first.
Upward Bound Program, a pre-college program of robust academic instruction, tutoring nd counseling, which  provides high school students with an opportunity to enhance the academic skills necessary to successfully complete high school and enroll in and graduate from college.