Citizenship Clinic to offer free legal assistance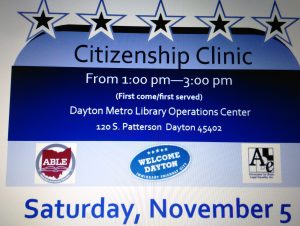 If you think you might be eligible for citizenship, you can get free legal assistance at the Citizenship clinic in Dayton Ohio. Welcome Dayton and ABLE will be co-hosting our last naturalization clinic of the year on Saturday, November 5, from 1-3 p.m. at the Dayton Library's temporary downtown location at 120 S. Patterson Street.  
Things to Bring:  2 Passport Photos  A copy of the front and back of your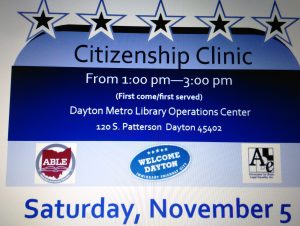 permanent resident card                 (green card)  If applying for a fee waiver, bring the award letter from the Job  Center, and/or copies of a tax  return and pay stubs
Things to Know:  Where you have lived in the past 5 years (addresses)  Where you have worked in the past 5 years (Companies,        Addresses, and Dates)  Naturalization Number (A-number) for children or other      dependents.
This clinic is a good opportunity for people to come and get free legal assistance completing these citizenship forms.