FREE IMMIGRATION RELIEF SCREENING IN DAYTON,OH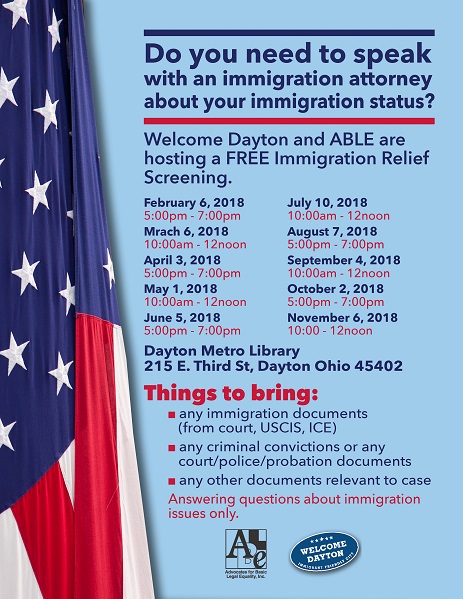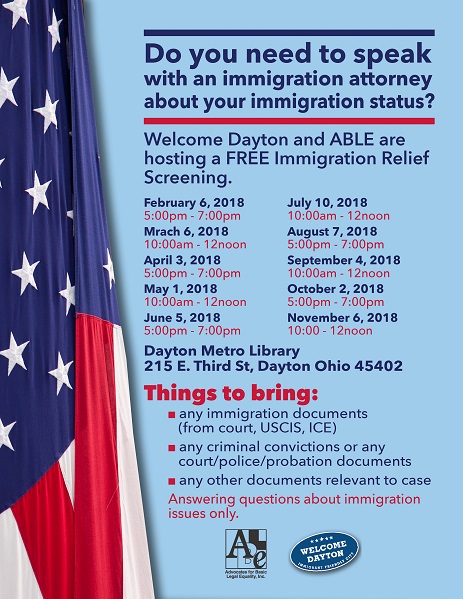 Advocates for Basic Legal Equality, Inc. (ABLE) a Ohio a non-profit, has joined with the City of Dayton, Welcome Dayton , a City of Dayton community initiative, to open up  a full schedule of immigration screening towards providing unrestricted legal services and  representation to low-income and under-served immigrants , ABLE s with assist completing forms, filings with United States Immigration Services (USCIS), representation at Asylum Interviews (Credible Fear Interviews, Reasonable Fear Interviews), Representation before the Immigration Court, Representation before the Board of Immigration Appeals (BIA) and Federal court appeals among others
———————————————————————————————
Immigrants of Nigerian origin now have an opportunity of applying for issuance of a new Nigerian passport during ISCA's International Convention at Holiday Inn Dayton/Fairborn I-675, 2800 Presidential Drive, Fairborn, Ohio 45324 during the weekend of July 21-23.
Nigerian Passport officials will be available during the convention weekend (specific days and times will be provided before that weekend). Local contacts are Sunny Unakalamba (837) 367-0929, and Joseph Diala (937) 554-9645. A minimum of 50 people are required to sign up to bring Nigerian Passport officials. Deadline for enrollment is July 7.
Below are Pa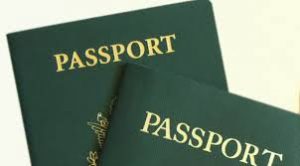 ssport Issuance Steps:
Step 1- Go to portal.immigration.gov.ng, select Passport, Standard E Passport and for processing Country select USA then start Application. It will take you to Innovate 1 Services website, where you will be required to login with your yahoo or gmail account. Embassy of choice is Washington DC, your Permanent Address is your family home in Nigeria and Contact Address is your US address and Phone number. Complete the form and click the Submit Button to generate the application ID & Reference numbers on the form. Print the application form. Also write and keep the two numbers in a safe place. Click continue and print the next page that tells you how much you are required to pay. Then STOP!!!!!! EXIT FROM THE SITE. they send you an email at this point. Print that email and forward it to me with a scanned copy your applications form.
Step 2- Purchase a post office money order in the amount of $106 (3Page booklet for adult) and $77 (0-18 and adults over 60 years). Then email the printed online application form, a copy of your old passport and a scanned copy of $106 post office money order for adult ($77 for minor). Send those documents via email to: pawpawojukwu@yahoo.com.
Step 3-: PLEASE COME WITH YOUR APPLICATION FORM and THE FOLLOWING:
••$150 in Cash per person for the processing and handling fees.
••Money order for $106 (Adult) or $77 (Children under 18 and adults 60 & over)
 ••2 recent passport size photos of each applicant.
••The expired Nigerian Passport for every applicant or Birth certificate if you were born in America (also bring a photocopy along with their originals).
••Children, who have never held a Nigerian passport, must show proof of Eligibility for Nigerian Citizenship by bringing a copy of their birth certificates and copies of the data pages of their parents' Nigerian passports plus consent letter signed by both parents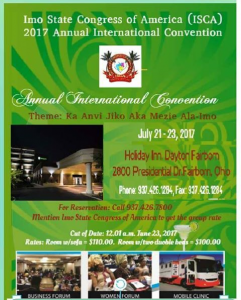 ••Married women with a name change on the passport application must bring a copy of their marriage certificates. Any other request for a name change must show proof that the applicant has made the change in a Court in Nigeria and published his or her name change announcement in a Nigeria newspaper for 30 days. Bring a copy of the publication to the Convention. You may call me (240) 393-9255
Applicants with Lost Nigerian Passports must bring a police report, an additional payment of $350 in Money Order plus a copy of the lost passport or a copy of their birth certificates as a proof of their Nigerian citizenship. The $350 is nonnegotiable. EMBASSY WILL NOT PROCESS A LOST PASSPORT CASE WITHOUIT THIS FEE.
••Every family must bring a postage paid self-addressed overnight return envelope for mailing the new passport back to them when it's ready. 4.,,,ALTERNATIVE PROCESS If for any reason, you are having great difficulty filling your form online, you may print and completely fill the attached E-Passport Application form in Capital Letters please and email to me. I will do the online application form for you for an additional fee of $20.00, which must be paid with a money order made out to me, Dr. Stella Onuoha. However you must scan and email the application form and a copy of $20 money order with a copy of your Nigerian Passport and the $106 money order for your online passport payment. Send to Pawpawojukwu@yahoo.com. Then bring all the originals to the Convention.
Please, include your phone number on the form in case I have a question for you. Final Note: Remember to bring your most recent expired Nigerian Passport. The Immigration Officer MUST SIGHT your old Nigerian Passport. BRING YOUR $150 CASH for Processing and handling fees. We must receive your application, copy of expired Nigerian passport and a scanned copy of your post office money order on or before June 30. This is to enable us prepare and send the applications ahead of time to the Embassy, which will reduce the processing time at the venue. For your $106 and $77.00 money orders, fill in your name as the sender/issuer of the Money orders. Leave the "Payee/Pay to the order of" line BLANK. We will fill that for you at the venue. PLEASE, DO NOT write Nigerian Embassy your money order. That Money Order will go to Innovate 1 Services/FGN. Please leave that space blank to avoid any errors, which will make your money order unacceptable. Bring the original documents to the Convention (including the money order for the online passport payment.) Note: Do not pay online yet. Wait till we get to the Convention pls. Should you require further information or if you have any questions, kindly call or text Dr. Stella Onuoha on 240-393-9255 (also on Whataspp). If you prefer, you may send an email message to Pawpawojukwu@yahoo.com. Thank you. Her Excellency, Hon. Amb. Dr. Stella Onuoha (240) 393-9255 NB: NIGERIAN VISAS APPLICATIONS WILL ALSO BE ACCEPTED AT THE VENUE. CALL FOR THE INSTRUCTIONS AND FEES. THANKS.