Refugee Sewing Training Kicks off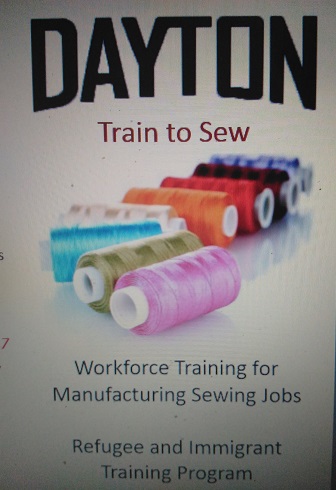 Application is now open for the second session of the 8weeks sewing training program, which is part of  Workforce Training for Manufacturing Sewing Jobs  -Refugee and Immigrant  Training Program.  This free training program is focused on teaching the basic skills required by  local employers, for employment as an industrial sewist. This training will help prepare students for pre-employment testing required by most employers. This is a self-paced training program. Students will progress through the  program based on their mastery of skills.
Outcomes:
Upon successful completion of the program, students will:
Be prepared for pre-employment testing with local employers
Students will receive:
Certificate of completion
Immediate interview with local manufacturer
Access to Dayton Sewing  Collaborative for 6 months to  practice and reinforce skills
Eligibility Requirements:
Students must be referred by a community partner or social  services agency
18 years of age or older
Desire to learn industrial sewing and start a career
Commitment to program: must be available to attend class at least 4 hours per week.
Drug and alcohol free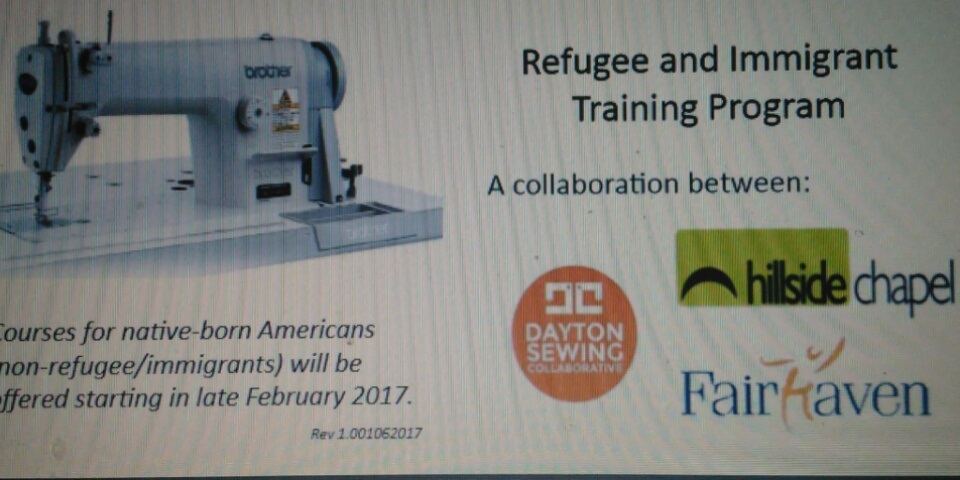 Contact:
Email:   DaytonTrain2Sew@gmail.com
Phone: 937-388-5100
Scheduled Sessions:
Refugee and Immigrant Training is held every Tuesday and Thursday from 4 – 8 p.m.
Session 2: starts March 28, 2017
Each session is 8 weeks long. Students are expected to attend class a  minimum of 4 hours a week.
Students will learn skills such as:
Use of home and industrial sewing machines
Common sewing vocabulary
Parts and function of the machines
Machine safety
Straight line sewing
Back-stitch/ back-tack
Classes will be held at the:
Dayton Sewing Collaborative
721 Springfield Street Dayton, OH 45403
Use entrance on EAST side of building.
Use driveway between 721 Springfield and Alro Steel. RTA Route 11 and X1B
Want to get involved?
Social Service Agencies
Employers
Provide input and feedback to tailor training curriculum to meet  company needs
Offer employment opportunities to graduates
Individuals with Sewing Skills:
Volunteer! Instructors and support team are needed. Use your skills to help others.
Donors:
$300 – sponsors an individual
Classes hold every Tuesday and Thursday nights, between 4-8pm beginning 28 March 2017